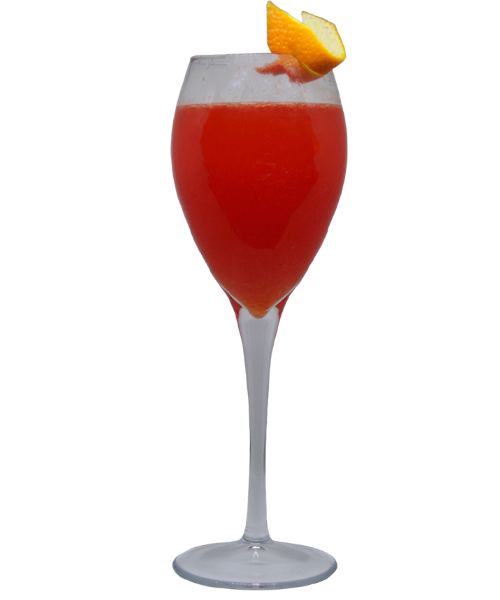 1925. In the luxury of the Ritz Hotel, a bartender poured the yellowest yellow drink in a Champagne flûte. «Mimosa!» he proclaimed. And just like that, one of the fanciest cocktail in the world was born.

But what if the yellowest yellow drink was somehow a yellowest reddish drink? "Scarlet Blaze" takes its name from a rare red mimosa tree that sprung in the warmest land of the earth.

Here you have a Mimosa with a twist. Fancy as much, elegant and charming, with a unique sweet blood orange aftertaste.
Orange juice, Sangumé Apéritif and only 50ml of Prosecco. All together in a mixing glass. Then pour the mixture in a flute glass and add the rest of the Prosecco.
Stir the drink gently, please.
INGREDIENTS:
50ml fresh orange juice
25ml Sangumé Apéritif
100ml Prosecco Brut

GARNISH:
no garnish
«It's so hot in here that even my blood is boiling!» Summer evening, clothes stuck to your skin as if sweat were glue. The heat can be so much unbearable after a long day at work.

And what is the best way to respond to the torrid weather, if not with a sweet and frozen long cocktail?

"Cooler than blood" is the perfect cocktail when you only want to chill and forget the stress, the chaos and the heat. Sweet and fruity, with a distinct blood orange taste. Get ready for the most refreshing sensation after just one sip.
Muddle oranges + sugar + lime at the bottom of the glass.
Add cracked or crushed ice, the apéritf and Bitter Lemon.
But remember: Sangumé comes first. Stir, mix and drink.
INGREDIENTS:
2 slices of orange
3 slices of lime
3 bar spoon of white sugar
50ml Sangumé Apéritif
100ml Bitter Lemon
GARNISH:
A slice of dried blood orange, mint spring and icing sugar.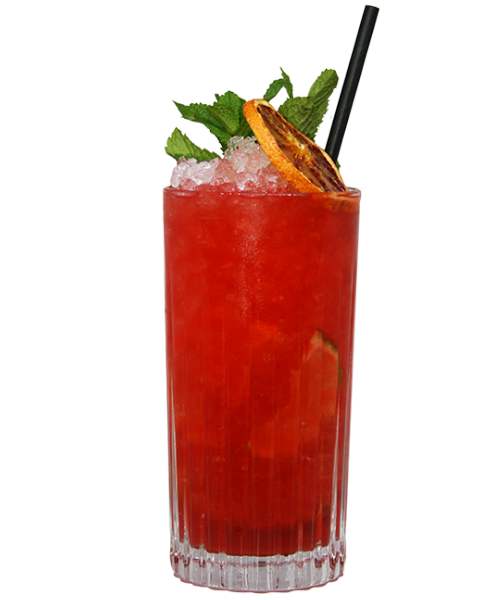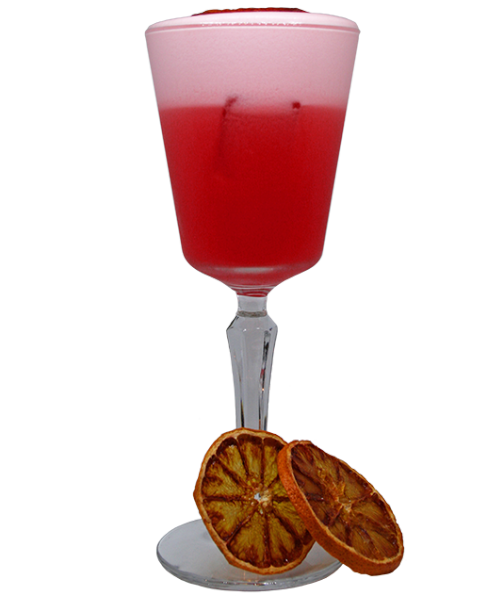 It explodes in orange pink, there where it touches the earth. Then, the further your eyes go, the brighter it gets. Have you ever truly admired the big beautiful sky at the crack of dawn? It changes colours like this, from one to the other, a smooth transition that feels warm in the eyes of those who contemplate it.
I remember myself sitting in front of the window in my room, back in my days in Catania. The laughter that filled the night had passed by, in their place the lights of a sunrise and a new day.
A sour flavour in the mouth for each moment already gone, the sweetness of hope for whatever was coming next. It's what "At sunrise" tastes like. A Sangumé Apéritif Sour Cocktail that brings back memories and helps you open up to something new.
Put the ingredients all together. Don't put any ice at first. Shake them vigorously, would you? Good. Add ice now, and shake them again. Double strain your drink and complete it with 3-4 ice cubes.
INGREDIENTS:
50ml Sangumé Apéritif
30ml fresh lemon juice
25ml white sugar syrup
1 egg white
GARNISH:
A slice of dried blood orange on the top.
He was the perfect specimen of a
dandy
, Count Negroni. Florence, 1919. Every day, at the exact same time, Count Negroni walks into his favourite bar and orders his favourite cocktail, «Americano, please. Strengthened». Mr. Fosco, his bartender, made the right choice when he replaced soda with gin. From that moment on, the aperitivo cocktail Negroni was written in history.
But there is another story that deserves to be told. A story that takes place further south, in Sicily, around that time or just soon after. Donna Florio, also known as Queen of Sicily – although she was only the daughter of a Lord –, graceful and elegant as few other women, would rather fancy something lighter.
«Negroni, please. Softened». Her lady-in-waiting made the right choice when she drizzled a few drops of blood orange juice in her drink. She did so to please her. To let her have a taste of something bitter, sweet and sourat the same time.
This Sangumé cocktail is a tribute to one of the most iconic women of Sicily. "Donna Florio", the symbol of the Sicilian Belle Époque, described by the poetsas "the Star of Italy " or simply "The One ".
Take a sip of this Negroni with a twist, live a night like the most loved Sicilian noblewoman of all the time.


Add Gin, Sangumé Apéritif, and sweet white Vermouth in a mixing glass. Stir with ice a little bit. Strain in a Double Old Fashioned glass. Have a sip.
INGREDIENTS:

25ml Gin
25ml Sangumé Apéritif
25ml Sweet White Vermouth
GARNISH:
A slice of dried blood orange on the top.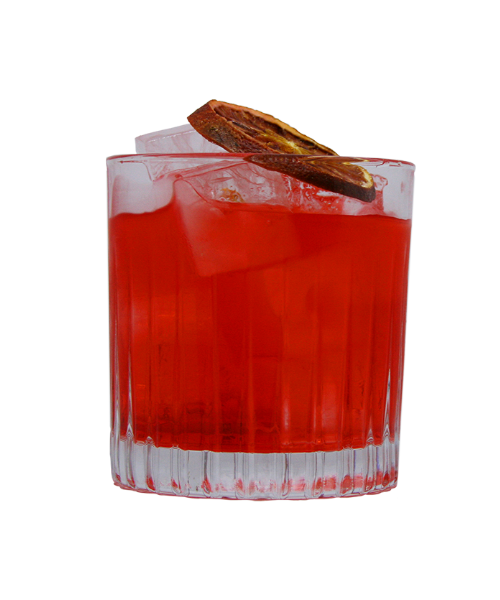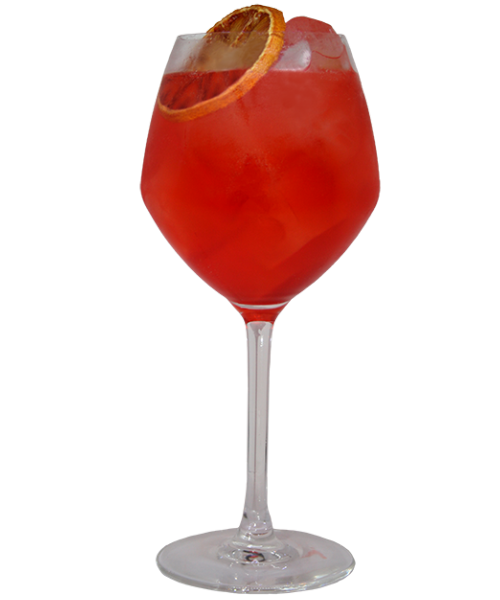 Get in touch with the Spritz, but do it with a Twist. Spritz culture is deeply embedded in Italy, and needless to say, in Sicily, where it happens the same.

After 6 pm, it feels like life stops – «Alright troops, battle station, to your posts!» – and there is no room for stress or bad mood: just giggling and fun while relaxing in your favourite pub, sipping the Italian cocktail by excellence.

But with Sangumé Apéritif, things get different. The Italian aperitivo now has Sicilian blood, and it comes from original blood oranges grown on the island.
Ice cubes in a wine glass. Lots of ice cubes, no need to be thrifty. Then pour the ingredients in it, but do it in the exact order: Prosecco first, Sangumé soon after, Soda water in the end. Easy, right? Take a sip and smile.
INGREDIENTS:
75ml Prosecco Brut
50ml Sangumé Apéritif
25ml Soda water

GARNISH:
A slice of blood orange, better if dried.
Simple but classic. If you're in the mood for some no-frills cocktails, these two Sangumé Apéritif mixes are the perfect choice for you.

But don't be fooled: simple doesn't mean boring. Adding tonic water or lemonade to your Sangumé glass could really make a difference.

Try it with the tonic water just as the recipe says and notice how the aromatic and bitter notes of Sangumé Apéritif explode in your mouth now. Notice the enhanced sweetness of the citrus flavours when you choose to add lemonade instead.
Pick up your favourite.